In addition to the kitchen, your living room is where you spend the most time entertaining guests. As a good host, you want the room to be as attractive and friendly as possible while still pleasing to the eye. One of the best ways to achieve this is to learn how to choose the best from sofa decorations to suit your space.
It should not be a challenge to make a statement and also make your guests feel comfortable. This can be as easy as adding a photo wall, a few personal pillows or a comfortable feather blanket. Look at our examples below to help you create a room where people want to spend time.
---
1. Big Brick Wall
The brick background turns the walls of this eclectic gallery into a fun and interesting place. A variety of subject matter combined with different frame styles makes this a unique way to show off your interests.
---
2. Brilliant Blues
Various shades of blue echoes in various frame styles are used on this unique photo wall. In this neutral dominated room, the bright blue collection offers a beautiful focal point.
---
3. Fun Photography
Choose your favorite photo and print it in large format to make it look attractive. Framed black and white images become stunning works of art when hung on the couch as a focal point.
---
4. Mirror, Mirror
Using a mirror as a sofa wall decoration is not a new trend. This example proves that you can design a brilliant room around the room. A beautiful mirror blends seamlessly with simple decorations while still attracting your attention and making an impression.
---
5. Neutrals That Pop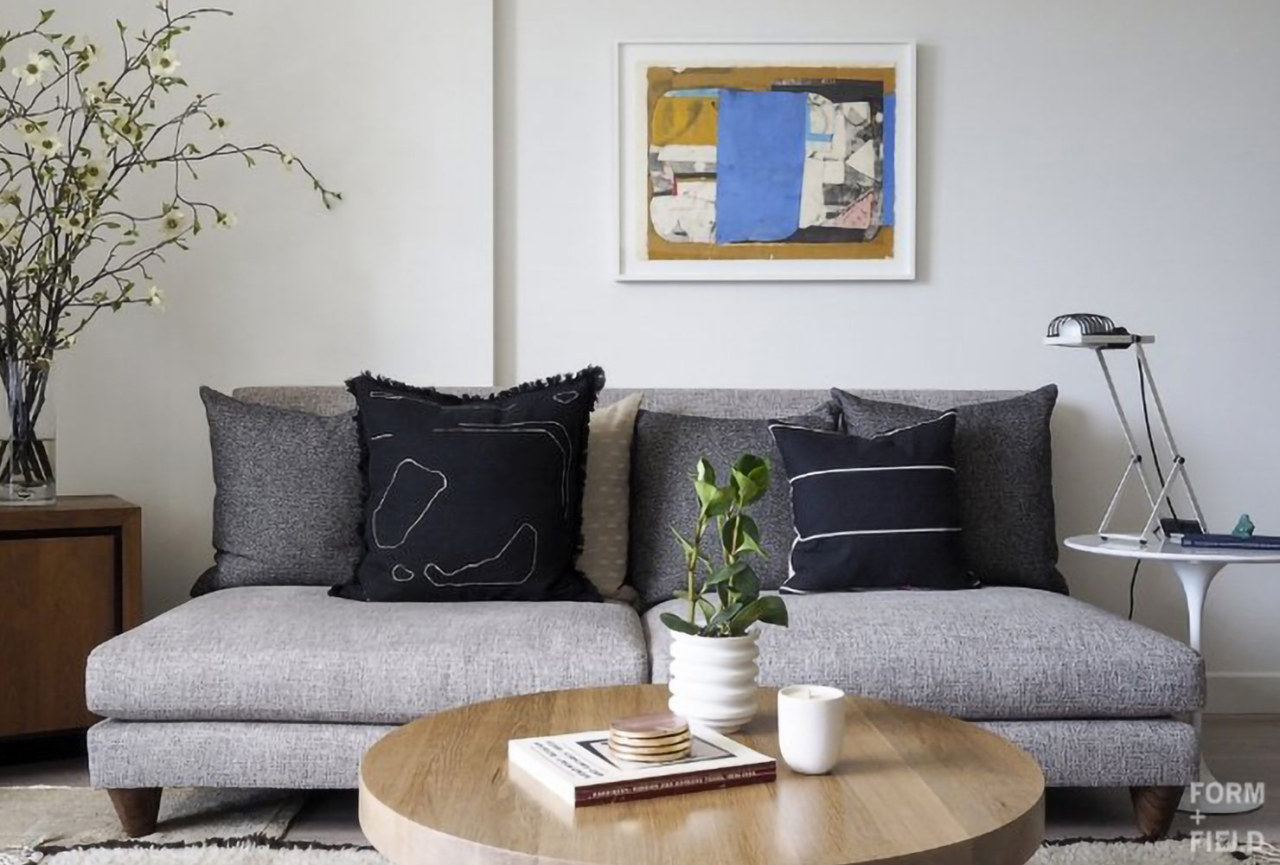 Denim, gray and white are popular neutral displays for wall mounted art. In this case, neutral is the star of the show. Colorful framed prints share the spotlight and coordinates with attractive sofas and pillows.
---
6. Just Stay Home
In a busy and busy world, love to do as suggested by the sweet artwork on this sofa and stay at home. This room offers a soothing and comfortable place to stay away from everything without going anywhere.
---
7. Inviting Neutrals
A sense of calm fills the air as the soothing neutral tone of the living room invites you to enter and sit for a while. An equally calm photo or painting centered on the couch completes the welcome.
---
8. Keep It Simple
Bright blue walls with lots of white accents and lots of natural light evoke the feel of the beach. Add large framed prints on the sofa to complete this simple living room.
---
9. Family Photo Wall
A photo wall of similar framed and matted photographs draws your attention in this large room. The family photo gallery becomes the focal point in this clean and bright room.
---
10. Natural Art
Take a blank artist canvas, add a beautiful bouquet of flowers and you have instant art. This room is a genius in its simplicity. Comfortable furnishings pair up nicely with bright, neutral decorations.
---
11. Artful Abstracts
Attractive abstracts filled with color blocks light up the open space above the sofa. Print various color accents in the room while still coordinating with furniture and equipment.